Herbed Mushroom Round Steak- Crock Pot
DuChick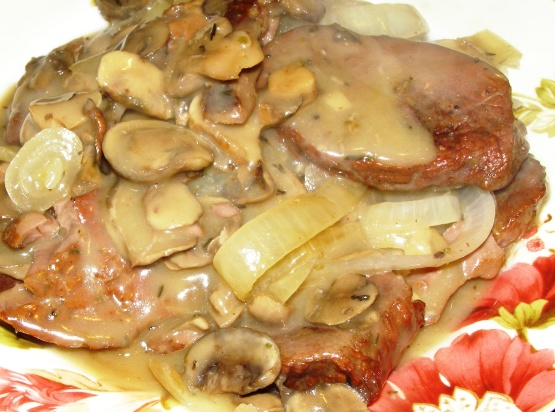 Let the crock pot do the work for a wonderful entree.The long cooking time tenderizes this cut of beef. From BHG, Crockery CookBook, with my changes. Note: If your crock pot cooks hot, please add 1/2 soup can of water into the soup mixture.

This was great. I added a deep red wine for a different flavor and it was outstanding. I also added some instant mashed potatoes to thicken the gravy. It's an old trick I learned somewhere. Crockpot on high made it wonderfully tender. I used 3lbs of round steak because that's what I had so I added two cans of soup so we had plenty of gravy. It makes a lot. Served over rice for just a nice change. I think you could add a container of sour cream and get a great stroganoff flavor from this too.
Trim fat from meat.
Cut into serving sizes, if needed.
In a large heavy skillet, brown beef on both sides in hot oil.
Lightly spray the liner of a 4-quart crocker pot with cooking spray. ,.
Spear one bay leaf with a toothpick (to be able to find and remove after cooking.
Mix soup with spices and pepper.
Meanwhile, place onion slices, green peas and mushrooms.in bottom of crock pot.
Remove beef from skillet and place in crock pot on top of veggies.
De-glaze pan with white wine,scrapping up meat bits.
Add soup mixture to skillet and whisk to blend well; pour over meat in crock pot.
Place speared bay leaf into mixture.
Cover; cook on LOW setting for 8 hours.
REMOVE bay leaf and toothpick.
Serve over cooked noodles and sprinkle with parsley.