ImPat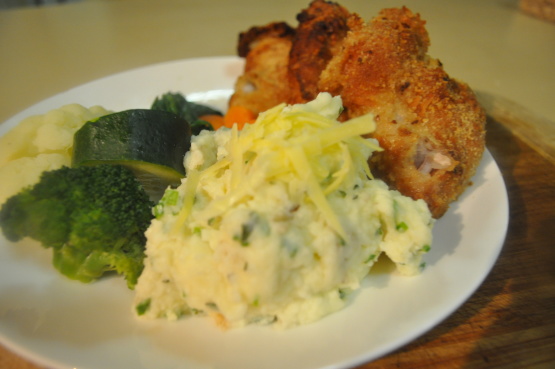 I like the cheese, herbs and garlic in this potato dish. You can use other herbs if you prefer, parsley and chives is also a nice combination. It will depend on the type of potatoes you use how much milk and sour cream you need.

Top Review by ImPat
Totally packed full of flavour with nothing being predominant, I used fresh basil and garlic chives from the garden and a sharp extra tasty vintage cheddar (though only about 3 ouces instead of 4 and garnished the left overs on the mash) I was only serving 3 but had enough for 4 or 5 so it looks like potato cakes in the morning for breakfast. Made for Pets' Cook-A-Thon in her memory.
Boil potatoes with the garlic cloves until soft, mash the potatoes.
Add cheese and stir until melted.
Add milk until texure is smooth.
Add sour cream and stir until blended.
Add basil, chives and nutmeg.
Add salt and pepper to taste.