Prep 5 mins
Cook 1 hr 30 mins

A light casserole that is very easy to prepare. From The New American Diet.
Make and share this Herbed Lentil Casserole recipe from Food.com.
Directions
Preheat oven to 350.
Combine all ingredients except cheese in an ungrease 1 1/2 quart casserole.
Bake uncovered for 1 1/2 - 2 hours.
Spread cheese on top and bake for additional 5 minutes.
Reviews
Most Helpful
I agree with ladypit, this is a good version of lentil casserole but I don't think it beats the traditional one I use. The tangy flavor is a nice change and the onions cook themselves nicely in the liquid. Mine needed a bit of extra garlic powder on top. It was super easy to cook, and I subbed some chicken broth for most of the water.

I just ran across this recipe, I made it years ago and lost the recipe. I'm so happy to find it.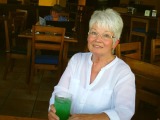 This is very similar to a standard family recipe here #74629. The wine is different, as is the cheese. I enjoyed both of these changes. The wine gave it a nice fruity undertone, and I really enjoyed the mozzarella on top. I'm not sure it will replace my traditional one, but it sure was good! Thanks!