Herbed Lemon Chicken in a Crock Pot / Slow Cooker
Peter J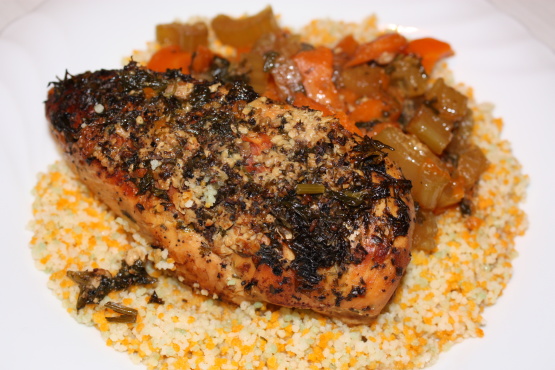 This is a lemon herb garlic chicken dish which is made in a slow cooker to contain it's natural flavours. When we served it the meat fell away from the bone. If you wish to increase the celery and carrot you may do so without dramatically change the flavour of the dish. I normally remove the skin off the drumstick, which I recommended with this dish but feel free to leave it on. Everyone enjoyed it in our house hold, hope you will enjoy it.

I have to agree with the rest of the reviews. I didn't have chicken legs but bone in chicken breasts. This recipe was easy to follow and made with items that you will have in your cupboards. The only change I made to this recipe was to remove the chicken half hour before serving. I place in the chicken on a oven safe dish and covered it with aluminum foil. I then placed the chicken in the oven on a preheated 200 degree oven while I cooked the rice in the crock pot. I put in a cup and half of rice, turn the crock pot to High and cooked it in the juices for about half hour. I will test for doneness. This is a true keeper.
20

g butter

1

kg chicken drumstick, with bone

1

stalk celery, chopped

1

carrot, chopped
1 1⁄4 cups chicken stock, liquid stock

1

lemon, juice of, freshly squeezed

1

spring onions or 1 green onion, finely sliced

3

garlic cloves, sliced

2

tablespoons fresh parsley, chopped

1

teaspoon dried oregano, ground
salt, to taste
ground black pepper, to taste
In a hot non-stick pan, add butter and melt.
Add chicken drumstick and brown or seal chicken.
Place celery & carrot on base of crock pot/slow cooker.
Add brown chicken drumstick into the crock pot/slow cooker, making sure the chicken drumstick are not sitting on top of each other (must be laying side by side). Pour left over juices in the pan into the crock pot/slow cooker.
Pour chicken stock and lemon juice on top of drumstick.
Sprinkle onions, garlic, parsley, oregano, salt and black pepper on top of the chicken drumstick.
Cover and cook on 'Low' setting for 6-8 hours. (Depending on you crock pot/slow cooker, mine tenders to cook quickly even on the slower setting).
Serve with juices on rice or with crusty bread.