Herbed Lemon Chicken Breasts -- Ww Friendly
teresas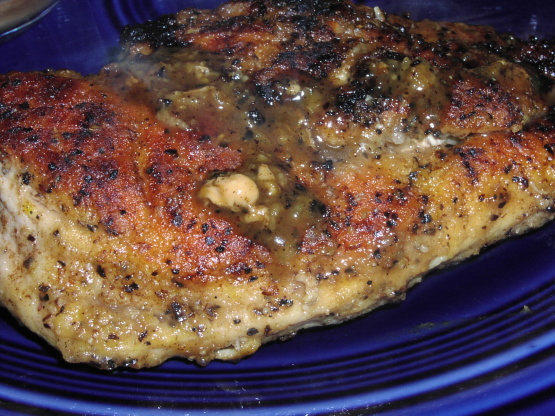 This is so good and so easy. I got this off the WW website. It is also easy to halve this recipe, or even quarter it.

This was good! But my lemon-pepper was a bit old. We didn't really know what heat to be cooking on, so we winged it and our chicken was a wee bit dry. We paired it to a Martha Stewart low-fat eggplant parmesan recipe, and it worked well together. Will make again, but will buy new seasoning! And possibly use less of the lemon-pepper. Thanks for sharing!
On a large plate, combine Mrs. Dash seasoning with flour. Pat chicken dry and roll in flour mixture.
Heat butter in large skillet; add chicken and brown on both sides, about 3 minutes on each side.
Meanwhile, remove zest from lemon, squeeze juice from lemon, and mix zest and juice with broth.
Pour over chicken, cover, and cook for 15 minutes. Remove lid and cook for another 5 minutes or until juices run clear. Serve immediately.