Rita~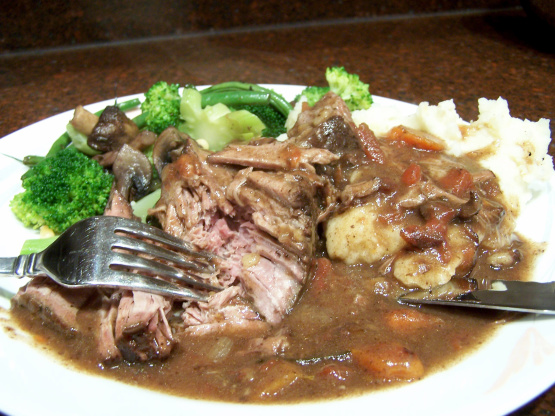 From Mary Ann Esposito, this hearty pot roast can be made in the oven or in a slow cooker. I've included the slow cooker directions though I myself have never used one. I can, however, vouch for the stovetop/oven method--really delicious! If you're using the slow cooker, add a couple of hours of cook time.

Top Review by Rita~
Fall Apart tender and so full of flavor. I added the wine to the cooked veggies to deglaze the pot and then add to the tomatoes in the crock. I did cook on low very late in the day shot off and left counter top unplugged till the morning, put back on low and cooked till fall apart tender. I removed the meat and added a flour slurry to the rich liquid to make a fabulous gravy! Oh I did remove a skim off the fat before adding the flour! I did remove any fat from the meat before adding back to the gravy. No need for a knife!
Mix the salt, pepper and oregano together and rub all over the roast. Set aside.
Heat the oil in a large skillet and brown the roast well on all sides. This is a really important step because it adds a lot of flavor through carmelization.
Transfer roast to the slow cooker or heavy duty oven roaster.
In the same skillet used to brown the roast, cook the onion, carrot, and garlic until the mixture is soft, then add them to the slow cooker or oven roaster.
Combine the wine and tomatoes in a bowl and add to the slow cooker or oven roaster.
Tie the rosemary basil and parsley together with kitchen string and add to the slow cooker or roaster. Mix the ingredients well, Cover and cook in slow cooker for 4-5 hours on high or 6 to 8 hours on low. For the oven roaster, cover with heavy duty foil and cook 3 to 4 hours or until fork tender.
When cooked, transfer the meat to a cutting board; cover and allow to stand for 20 minutes. Cut into slices and return the meat to the slow cooker or oven roaster just to reheat. Serve hot with some of the sauce.
The sauce is also good over pasta or rice.