Herbed Focaccia Stuffed With Tomato and Provolone Cheese
Nimz1466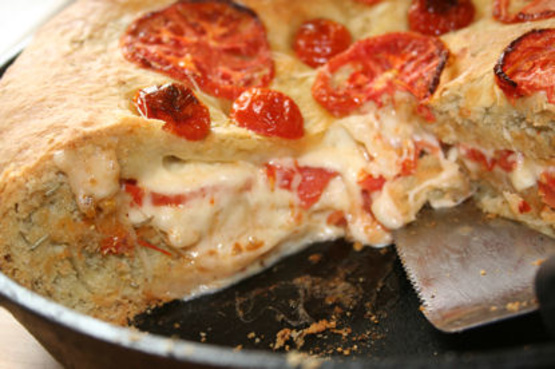 I love Focaccia and this one is delicious. The 1 1/2 hours prep time includes 2 risings.

Oh god! This was heavenly! A lot of work, but it was worth it! I was disappointed I only got to have ONE piece - everyone else inhaled it. Well, that's part of the joy of cooking for more than just yourself!
Oil lightly a well-seasoned 12 inch cast-iron skillet with vegetable oil and sprinkle bottom with cornmeal.
In a large bowl, proof yeast in ½ cup lukewarm water and ½ tsp sugar for 15 minutes, or until foamy.
Add 2 cups of flour, salt, herbs, ¾ cup olive oil and 1 ½ cups lukewarm water and stir until combined well.
Stir in 4 cups flour and gather dough into a ball.
Knead dough on a floured surface, adding more of remaining flour if necessary, for 15-20 minutes, or until smooth and elastic and no longer sticky.
Form into a ball, put in an oiled bowl and turn to coat.
Let dough rise, covered tightly with plastic wrap, in a warm place, for 45 minutes, or until doubled in bulk.
Punch dough down.
Knead lightly and halve.
In skillet, flatten and stretch half the dough to cover bottom completely.
With fingertips, dimple the dough in places 2 inches apart.
Brush with 1 tblsp oil and sprinkle with sea salt.
Arrange ¾ of the provolone, overlapping and leaving a ½ inch border; layer ¾s of plum tomatoes and top with remaining provolone.
On a flat surface, flatten and stretch remaining dough to fit skillet.
Lay over filling and press edges together firmly to enclose filling.
Make dimples in the dough in the same manner as before, brush with 2 tblsps oil, and sprinkle with more coarse salt.
Arrange remaining plum tomatoes and cherry tomatoes decoratively on dough.
Brush with 1 tblsp oil.
Let dough rise, covered with dampened kitchen towel, in a warm place, for 30 minutes.
Bake in upper third of a preheated 400F oven for 50 minutes to 1 hour, or until golden-brown around edge, and let cool in skillet for 5 minutes.
Serve hot or at room temperature.