Herbed Fish and Vegetables Barbecued or Oven Baked
ALMjoy7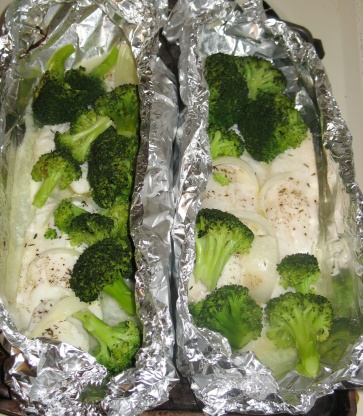 It's barbecue time but you can bake this dish in the oven too. Easy to put together and easy clean up too. Adjust the seasonings to taste. Double or triple the recipe for more servings. It's a great recipe to use up leftover cooked veggies too. Add thickly sliced cooked potatoes (or drained canned potatoes), and leftover cooked veggies such as green beans, peas, carrots, cauliflower and broccoli for a meal-in-one. Add one ice cube to each packet if using leftover vegetables to prevent drying. Add more green onion or use sweet onion if you like. Also good with side dishes of oven roasted potatoes and cole slaw. I usually serve the dish with wedges of lemon for those who really like the extra lemon taste. Haddock is my favorite fish to use in this recipe. The original recipe is from a Reynold's Heavy Duty Wrap recipe card.
Cut two sheets of heavy-duty foil paper 12" x 18".
Preheat oven to 450 degrees Fahrenheit or preheat barbecue grill to medium-high.
Spray each piece of foil paper with nonstick spray or lightly oil.
Center one fish fillet on each sheet of foil paper.
Divide green onions and top each fillet.
Divide frozen veggies, or precooked leftover veggies, and place around fillet. Add one ice cube to each packet if using leftover cooked veggies to prevent drying.
Sprinkle both packets of fillets and veggies with seasonings to taste.
Top each packet with bits of butter.
Bring up the foil paper sides. Double fold the top and ends to seal the packets, leaving room for heat circulation inside.
Bake packets for 18 to 20 minutes on a cookie sheet in the preheated oven. Or, grill 10 to 12 minutes in a covered grill.
Drizzle with lemon juice or serve lemon wedges on the side.