Herbed Escarole Casserole
BarbryT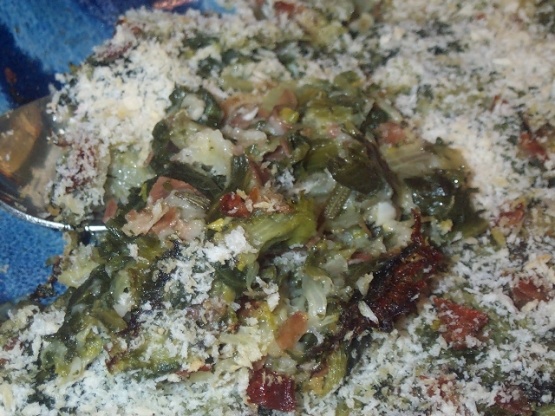 I was inspired by a recipe that I saw somewhere on the internet. I've changed it quite a bit to suit personal tastes. A nice side with grilled meats.

It IS nice. I used oregano, sage, parsley, thyme and rosemary from my herb patch(I simply forgot basil because that supply was purchased and in the frig.) A large clove of garlic. I was surprised the dish wasn't more strongly flavored, given all the yummy ingredients. I think next time I will increase the garlic. An out-of-the-ordinary side dish which will nicely complement, especially, strongly flavored entrees.
Preheat oven to 350 deg. Grease a 2-cup casserole.
Cut off root end of escarole. Thoroughly rinse the leaves. Bring water to boil in a large pot. Add the escarole and cook until tender, about 10 minutes. Remove and drain. Roughly chop.
Heat oil in a skillet. Add the escarole, prosciutto, herbs, and garlic. Saute, stirring frequently, for about 5 minutes.
Remove from heat. Stir in 1/3 cup panko and cheese.
Place in casserole. Sprinkle with 1 tbl. panko.
Place in oven and cook for about 25 minutes. Serve.
Note1: I used a mix of basil, oregano, rosemary, sage and thyme. Use whatever you like. You can substitute 1 tbl. of mixed dry herbs, if you must - try to use something fresh, even parsley.
Note2: Delis that sell prosciutto often sell the ends too small to slice at less than half price of the sliced prosciutto. It keeps a long time. Of course, you can sub sliced prosciutto.