Herbed Eggplant (Aubergine) Souffle
fawn512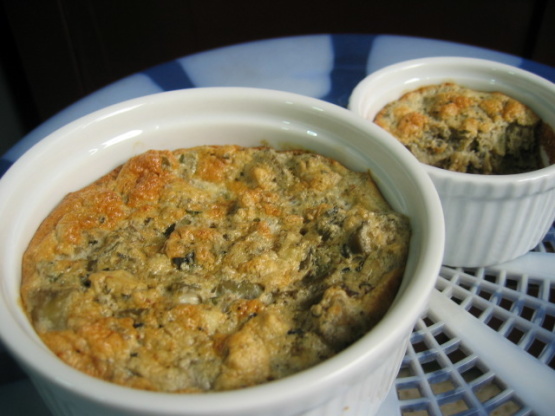 This was the first "soufflé" I'd made, and it came out quite well! (And was actually a LOT easier to make than I'd anticipated.) Steingrim, who dislikes eggplant, loved it. Finally, an eggplant he'll eat! :) The recipe is adapted from Kim D's adopted recipe for "Creole Eggplant Souffle."

Top Review by Carole
My husband and I LOVED this - very flavorful. Too many eggplant in the garden so this was a great way to use them (tired of Eggplant Parmesan). Also had lots of sweet peppers in the yard so sauteed a couple along with the onions, otherwise kept to the recipe. 1/2 of the recipe served 2 people and left us wanting more.
Preheat oven to 350 degrees F; butter or oil a 1-1/2 quart baking casserole or souffle pan.
Over medium heat in a large skillet (with a cover) or round French oven (my Le Creuset works wonderfully well), melt butter and oil together, then add the onion, celery, and garlic and saute over low heat until the onion is translucent.
Sprinkle in the flour and stir well until incorporated.
Add the basil, oregano, and thyme and saute, stirring, until flour begins to brown.
Add the milk and the diced eggplant.
Reduce heat to low, cover, and cook, until the eggplant is very tender, about 15 to 20 minutes; check the mixture every 5 minutes or so and stir, adding water or broth to keep the bottom of the skillet moist.
Remove from heat and transfer to a large bowl; allow to cool for 5 minutes, stirring occasionally.
In a bowl, combine the bread crumbs, mozzarella, Parmesan, salt, pepper, and 4 egg yolks and stir well to coat.
Add yolk mixture to the eggplant mixture and stir well; set aside.
In a separate bowl, beat the egg whites until stiff peaks form.
Gently fold the whipped egg whites into the eggplant mixture.
Pour soufflé mixture into the buttered casserole or soufflé pan and bake at 350 degrees F for 40 to 45 minutes, or until it is a nice golden brown and is puffy.
Remove from oven and let sit for 5 minutes, then serve immediately.