ImPat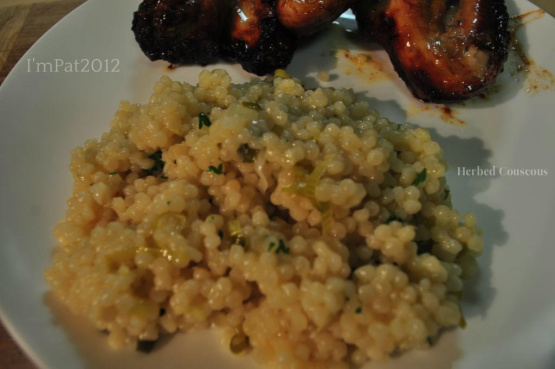 A really fast, simple side dish. Use any kind of broth that works with your menu, or even plain water. Use any soft green herb (parsley, basil, thyme, chives, dill).

Top Review by ImPat
I was a little confused with direction 3 to cook the couscous for 1 minutes especially when taking the prep and cook time into consideration so made the assumption that pearl/Israeli couscous should be used and the instruction should be 10 minutes instead of 1 minutes, otherwise followed instructions as written and 3 of us polished off a full recipe for 4, very enjoyable and fresh and will certainly try again and use othere herbs as well, thank you DrGaellon, made for New Kids On The Block tag game.
In a medium saucepan, melt butter over medium heat. Add garlic, scallion, a pinch of salt and a few grinds of black pepper. Saute until scallion softens, 2-4 minutes.
Add couscous and cook, stirring often, until grains begin to brown and it smells nutty.
Add broth. Bring to a boil, reduce to a simmer, cover, and cook 1 minute, until couscous is tender but firm.
Stir in parsley and serve.