PaulaG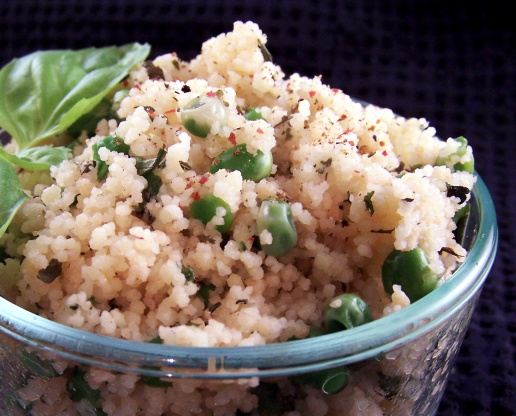 With fresh herbs coming into season here, I'm on the hunt for recipes which make good use of my bounty.
Lovely way to dress up our favorite side dish! Served with blackened tilapia and fresh green beans, our plates looked very pretty! :-) I used whole wheat couscous, left out the green peas but did use the chick-peas. My little garden is coming along nicely and I was able to harvest the parsley and basil but ran short on the mint so I supplemented it with a little dried. I thought the lemon zest really brought it all to peak flavor! Thanks for posting your recipe!
Bring broth and oil to a simmer in a medium saucepan. Remove from heat and stir in couscous, peas and chickpeas. Cover and let stand for 5 minutes.
Add parsley, mint, basil, lemon zest and pepper to the couscous.
Toss lightly with a fork and serve hot.