lazyme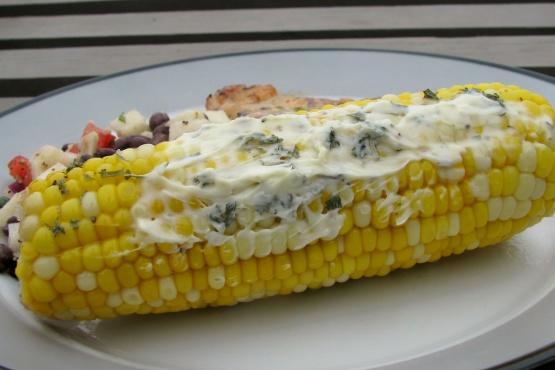 Posted in response to a forum topic. I found this recipe on another website, but can't remember which one. This has become my favorite way to prepare corn on the cob.

Dreamgoddess I LOVE YOU!!!!! I just ate the best ear of corn I have ever eaten. Now I will admit that I didn't cook the butter on the corn. I grilled the corn in the husks and then spread the butter on the ear when I went to eat it. I will keep some of this in the fridge at all times. Thanks for the great recipe!!!
Mix the butter, salt, pepper, parsley and rosemary in a small bowl.
Tear off one sheet of aluminum foil for each ear of corn (large enough to wrap the corn in).
Spread 1 T butter mixture on each ear of corn.
Reserve the remaining butter mixture.
Place 1 ear of corn on each piece of foil.
Roll up tightly.
Place on a baking sheet and bake for 30 minutes at 375 degrees.
Unwrap the foil and spread some of the remaining butter mixture on each ear of corn.