LAURIE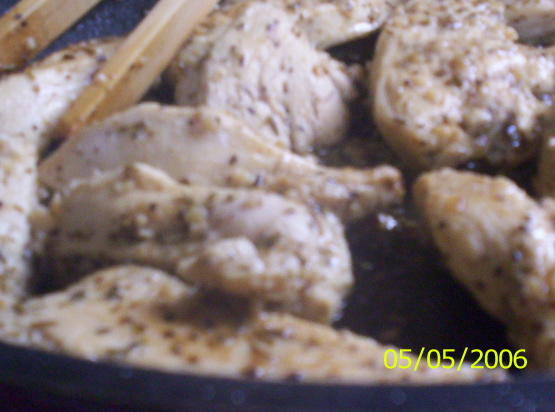 This is such a light, easy, yet flavorful way to cook chicken! I couldn't believe it when my kids actually fought over "who got more".....There were no leftovers when I made this, and I actually used this as the meat in a wonderful fettuccine Alfredo! Just delicious!

Thought I had all the ingredients at home but was wrong had no tenders, so used whole breasts and unfortunately had no rosemary so used mixed herbs instead. Also added more garlic powder - I can't get enough garlic. It was FABULOUS and SO quick & easy - even DH really enjoyed it. I cooked a couple of extra breasts to slice up for sandwiches the next day which I can't wait to try. This will now be a regular at our house. Thanks Stacky5
Wash and drain chicken breast tenders.
Mix all of the other ingredients (except for the olive oil) in a small bowl and whisk thoroughly.
Rub the herb mixture onto the chicken tenders thoroughly, until coated well on both sides of the chicken.
Heat the olive oil in a large nonstick skillet over medium high heat.
Add chicken to pan and sauté approximately 4 minutes on each side, until the color is lightly golden brown.