loof751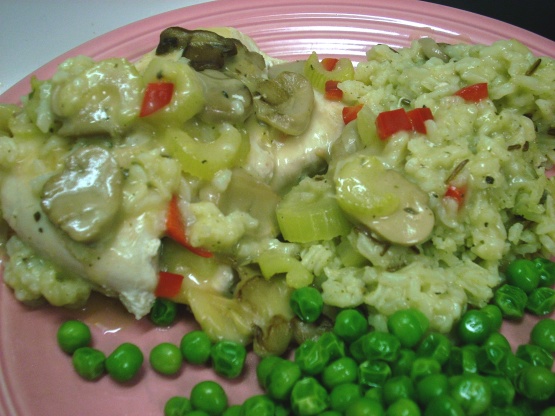 This is from the 1972 edition of Better Homes and Gardens New Cook Book
1

(6 ounce) package long grain and wild rice blend

3

large boneless skinless chicken breasts, halved (about 1 1/2 lbs)
salt and pepper, to taste

1

(10 1/2 ounce) can condensed cream of chicken soup
3⁄4 cup sauterne
1⁄2 cup sliced celery
1⁄2 cup fresh mushrooms, sliced (1/2 cup) or 1 (3 ounce) can sliced mushrooms, drained (1/2 cup)

2

tablespoons chopped canned pimiento
Prepare rice mix as instructed on package.
Season chicken with salt and pepper.
Melt butter in a skillet and slowly brown chicken.
Put rice mixture in a 1 1/2 quart casserole.
Top with the chicken.
Add soup to skillet, slowly add sauterne and stir until smooth.
Add remaining ingredients.
Bring to boil.
Pour over chicken.
Cover and bake at 350 F for 25 minutes.
Uncover and bake for 15 to 20 minutes or until tender.