Bev I Am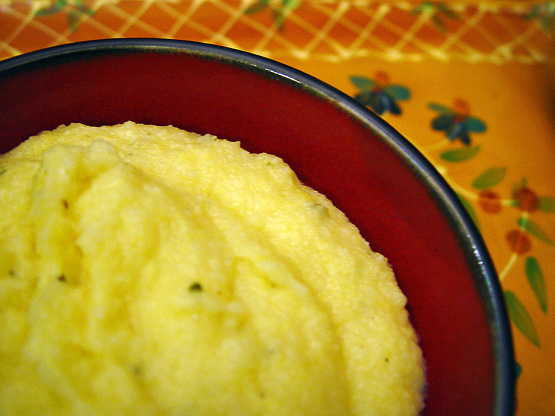 This is a Giada De Laurentiis recipe, from her family dinners cookbook. My friend Traci made this and I was fortunate to get the left-overs and it was scrumptious! She served it with Chuck Roast With Porcini Mushrooms, a perfect combo!

I've never made polenta b4, so I'm not sure what the consistency should be. Is it like porridge? That's how mine turned out. I think I used a bit too much seasoning bcz I had to use dried. I think 1/2 tsp of each would be enough next time. I love the creaminess and taste though! I was just expecting something more like cornbread, LOL! I did halve the recipe and used margarine and skim milk. Thanks HeidiSue.
Bring water to a boil in a large, heavy pot.
Add the salt.
Gradually whisk in the cornmeal.
reduce the heat to low and cook, stirring often, until the mixture thickens and the cornmeal is tender, about 15 minutes.
Remove from heat.
Add the cheese, milk butter, herbs and pepper.
Stir until the butter and cheese melt.
Transfer the polenta to a bowl and serve.