Herbed Butter Rib Eye Steaks
Rita1652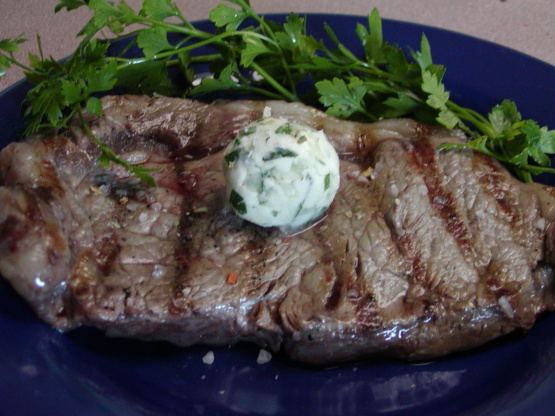 Picture rib eye steaks cooked outdoors on your barbecue grill, with a delicious herb butter melted on top. Herb butter must be made 2 hours in advance and refrigerated.

I made the butter with added finely diced onions. Then rolled them into balls. My steaks were very thin so they cooked very quick. So butter was added after cooking was complete. This brings a nice herby richness to the steak. I froze my remaining butter for future use.
In a small bowl, combine butter, garlic, lemon juice and parsley.
Place mixture on wax paper and roll into a 1" log, wrap tightly and refrigerate for 2 hours or until firm.
Preheat grill.
Mix onion powder, salt and pepper together and sprinkle on each side.
Place steak on grill and cook for about 7 minutes.
Turn the steaks over and place a 1/4" pat of the butter on each steak.
Cook for another 7 to 9 minutes for medium rare or until done as desired.
Remove steaks from grill and place an additional 1/4" slice of herbed butter on each steak and allow to melt.
Store the rest of the herbed butter in refrigerator.