Herbed Bread (Bread Machine)
racrgal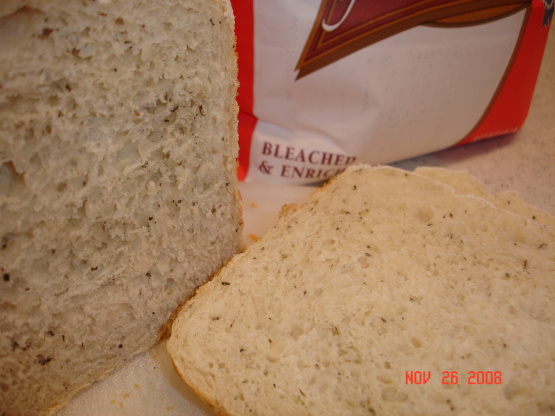 From TOH. Yield: 1 loaf (about 1-1/2 pounds). This makes a nice soft, but good for sandwiches, loaf. Speckled with green it is very pretty. Smells wonderful too!

I am so glad I tried this recipe. This is the best bread machine recipe I've tried to date. It's soft but not squishy soft. The herbs give a nice subtle flavor. The whole house smelled wonderful but not nearly as wonderful as the bread tastes. Prepared for My 3 Chefs Nov 2008 Thanks dicentra for what will be a bread staple in my house.
In bread machine pan, place all ingredients in order suggested by manufacturer.
Select basic bread setting. Choose crust color and loaf size if available. Bake according to bread machine directions (check dough after 5 minutes of mixing; add 1 to 2 tablespoons of water or flour if needed).