Herbed Biscuits (Quick and Easy)
teresas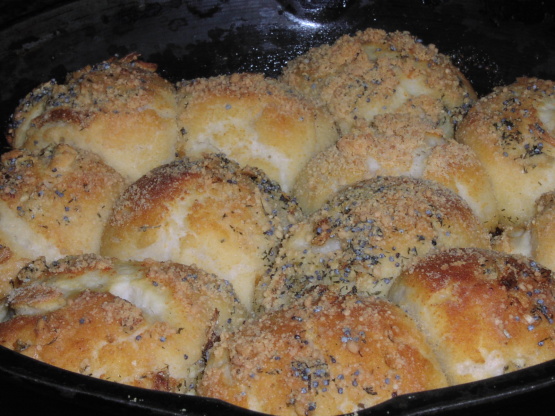 These are made with refrigerated biscuits, all dressed up with some butter and seasoned with onion, garlic, basil/dillweed, poppy seeds and parmesan cheese. Not gourmet, but sometimes you need something quick and easy!

Top Review by Debbwl
Wow these are addictive! Ok breezermom I will agree with you they not gourmet. But when turned out on a plate they look as yummy as they taste. Also loved how quick can easy they are to make. Made using the dill option and 1/2 cup fresh grated parmesan cheese. Will definitely be making again. Thanks so much for the post.
Pour the melted butter into an 8-inch round cakepan. Sprinkle onion, garlic, basil or dillweed, and poppy seeds evenly over the butter. Set aside.
Place the Parmesan cheese in a large heavy duty, zip-lock plastic bag. Cut each biscuit into 4 pices; add the biscuit pieces to the bag and shake them to coat.
Arrange the coated biscuit pieces in the prepared pan; I like to turn mine over a bit so all sides have a little bit of the seasoning. Sprinkle with any remaining Parmesan cheese from the zip-lock bag.
Bake at 400 degrees for 14 to 16 minutes or until golden brown.