Xexe383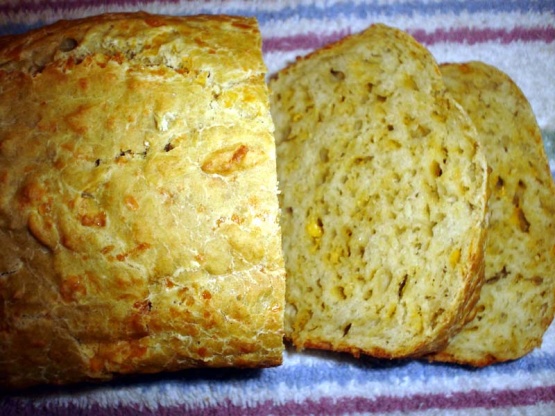 This recipe was posted in reply to a beer bread "Recipe Request" on the message board. Herbed Beer Cheese Bread By Charlie Brown, Alaskan (Beer) Brewer. The aroma of fresh baked bread, combined with herbs, accompanied by beer....ah! Try this bread!

The texture was lovely and the flavour was good, but it tasted too much of soda. Next time I will cut the baking soda, increase the cheese and herbs (I used 1 T of fresh sage) a little bit. Also only took 45 minutes to cook. We also brushed melted butter on top upon removing from oven.
Preheat oven to 375°F.
Grease and flour a large (9-inch) loaf pan.
In a medium bowl, stir together the flour, sugar, baking powder, baking soda, salt and sage.
Stir in the Alaskan ESB and cheese until complete blended.
Spread evenly in the prepared pan.
Bake until a thin wooden skewer inserted in the center of the loaf comes out clean, 50-55 minutes.
Cool the pan for 10 minutes, then turn out onto a wire rack to cool completely.