Marlene.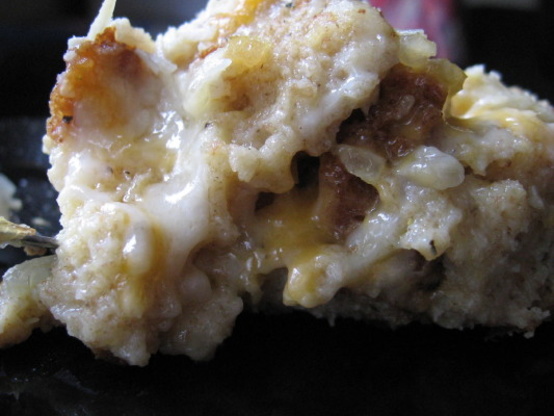 This is a great dish for brunch, but a pleasing side at dinner as well.
What a delicious flavor , from such humble ingredients!! The only change I had to make , was the bread. I didn't have white , I had a 12 grain. Everything else followed to a T ... mine took exactly the 35 minutes to bake through. Wonderful dish , thanks for posting!
Preheat oven to 350*F.
Melt 1 tablespoon butter in small saucepan and saute 5 minutes until tender and clear. Set aside.
Spread remaining butter on one side of bread slices. Cut into 1" cubes.
Lightly beat eggs with milk; add cheddar and swiss, basil, pepper, reserved onion, and bread cubes; mix well.
Pour into buttered 1 quart casserole, sprinkle with parmesan, and bake till golden (knife in center comes out clean), about 35 minutes.