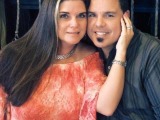 Adapted from Barefoot Contessa's Family Style Cookbook, 2002. My husband loves this tea!
4 celestial seasonings country peach passion tea bags
4 celestial seasonings cinnamon apple spice tea bags
4 cups pure apple juice
Directions
Steep the 8 tea bags in 4 cups of boiling water for about 10 minutes.
Discard the tea bags.
Combine the tea with the apple juice and refrigerate until cold.
Serve over ice.
***Prep time does not include refrigeration time.
Most Helpful
Juenessa, I made this twice, as I wasn't too thrilled with how the tea tasted the first time, as the cinnamon was quite strong, so I made it again, and prefered this tea the 2nd time around. The second time I made this, I used 6 country peach passion tea bags, but only 3 cinnamon apple spice tea bags. The brand of Apple Juice I used in this tea was... Nature's Nectar. Also, when making the tea, I just bring the water to a boil, (but not a rolling boil) then I remove it immediately from the heat; pour it into a glass pitcher, (w/the tea bags) cover the pitcher with plastic wrap, and let the tea set for 1 hour. What a difference in the taste of the tea, after it sets for an hour. Otherwise the tea is a bit weak in flavor if it's just steep for 10 minutes. I'm editing my review, as I just added a packet of Splenda to my glass of tea filled with ice, and I enjoyed the tea even better. Thanks for the recipe Juenessa.
I love this stuff. I used orange tea bags in lieu of the peach passion kind - still tasted amazing. I also added about a tbsp of honey. :) Again, I love this - I will make it over and over.

A refreshing and delicious tea drink. I made it just by the recipe except in a half amount and I put a cinnamon stick into the pitcher. I made it last night and chilled it overnight. It's highly recommended with a high Yumm factor.