- Carla -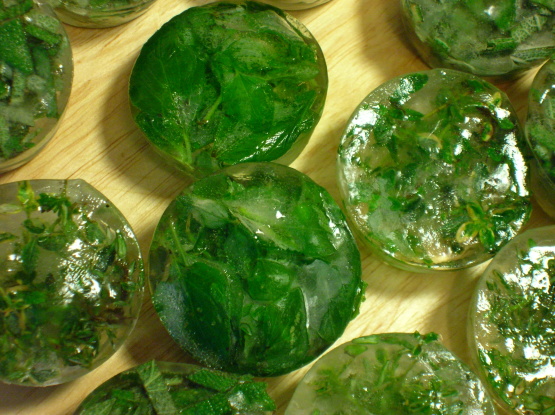 Freezing is a simple and excellent way to preserve fresh culinary herbs. Packing in ice cube trays makes it easy to always have fresh herbs on hand, adding fresh herb flavor to soups, sauces, and drinks. Some people prefer to freeze in a good quality olive oil, I prefer the boiling water method, which is listed in this recipe here today. You can freeze herbs individually or in combinations of other herbs.

Top Review by karen
A friend of mine has been telling me to freeze herbs forever, but I was never inspired to do it until I saw your pictures. I just put my first batch in the freezer, and it was SO easy. I started about 3 cups of water boiling as I started mincing (I made three ice cube trays). I quickly packed the herbs into a tablespoon measuring spoon before transferring them to the ice cubes trays. This will let me use one cube per tablespoon, and I'll know exactly how many to take out of the freezer. Then I used a half cup dry measuring cup to scoop water out of the pot, so no mess and no water all over the counter. I'll never throw away wilty fresh herbs again.
herbs, of choice (basil, chives, cilantro, fennel, lovage, mint, oregano, parsley, rosemary, sage, tarragon, thyme, et)
Mince herb (s) of choice.
Pack minced herb (s) into an ice cube tray, each 3/4 full.
Fill with boiling water, (this will blanch the herbs before freezing and will help them retain their flavor and color).
Once the herbal ice cubes are frozen, you can pop them out of their tray and into freezer bags for storage.
Use as needed.