Debbwl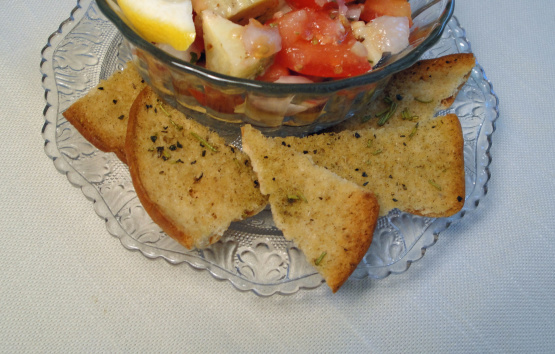 These toasts are nice with dips and I also serve them with soups. Pita bread is a good substitute; they are smaller so use a few extra. This also works with tortillas, but then you don't split them.

These are SOOOOOOO tasty. I used about 3 1/2 pitas and added the garlic, paprika, and Parmesan optional ingredients. We served this as a snack with some sliced cheeses and were in heaven. These would be fabulous with soup or salads as well. I will be making this again and again!
Preheat oven to 350 degrees F.
Split the bread horizontally.
Brush all four circles with the oil or butter; sprinkle the combined herbs over the bread.
Put them on oven trays and bake for 7 to 10 minutes, depending on your oven.
You can cut the bread in pieces before baking or carefully break them up after they are baked and cooled, this gives a more"rustic" look For variations add: garlic, cayenne, paprika or some fresh grated Parmesan.