Herb Stuffed Chicken Breasts
Cannie3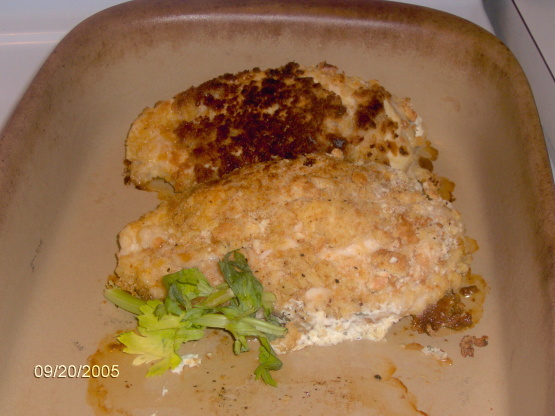 This special dish is a keeper! From the Stovall House in Georgia.The chicken can be stuffed and refrigerated the day before then can be browned, baked and served.

Great taste! Family loved it. I replaced chives with diced onion, and it worked just fine. :)
Soften cream cheese and mix in fresh herbs. ( If you use dry herbs use 1 tsp instead of one tablespoon)
Cut a pocket in each chicken breast.
Stuff with a heaping tablespoon of herb stuffing.
Dredge each breast in flour.
Dip in the egg wash and roll in the bread crumbs.
In a large skillet add 3 tablespoons of oil, and saute the breasts until browned/ Place the sautéed breasts on a greased baking pan.
Bake at 350 F for 20 minutes or so.