Herb Seasoned Squash Bake
BarbryT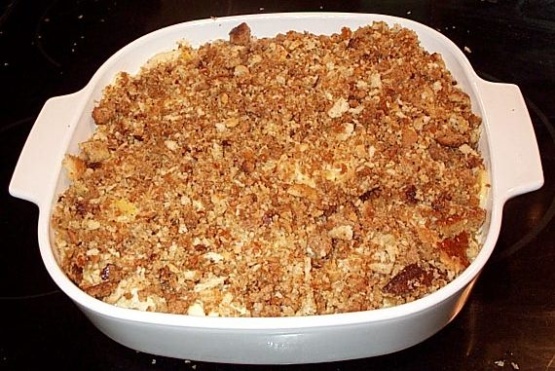 Pop grows squash and zucchini every year and I'm always on the lookout for new ways to eat it. I like this recipe because it's different from frying. I'm sure it will be an excellent alternative to the same old way you've been eating your squash too. You can also sub in zucchini...it's good too! This can be divided between two small casseroles and frozen.

Top Review by Bliss
I'm not sure what happened here. The casserole was fairly bland, and really needed salt and pepper. The stuffing on top was burnt, and most of it had to be removed. I followed the directions exactly like written, so I have no clue why my results were so different from the others.
Preheat the oven to 350 degrees.
In a saucepan over medium heat, boil the squash and onion in salted water for 5 minutes. Drain well.
Combine the squash, chicken soup, and sour cream.
Toss the stuffing mix with butter, sage, and onion powder.
Butter a 2 quart casserole dish. Layer half the stuffing in the bottom. Sprinkle half the cheese over the stuffing. Spread the squash over the cheese and top with remaining cheese and then the remaining stuffing.
Bake for 30-40 minutes.