Herb Roasted Whole Chicken
Diana Yen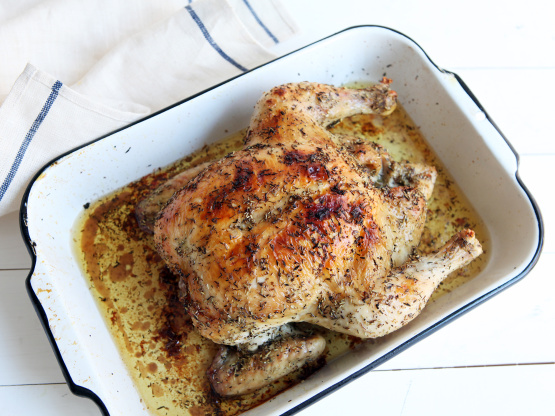 I make this a lot,I let it bake until the skin is brown and crispy.

I'd like to offer a few suggestions for this recipe. For a crispier bird, first of all you dont need to cover this or add water >> (the natural juices are enough) Make sure the chicken is entirely coated in your oil/herb mixture. Preheat your oven to about 400 Deg. ,then turn it down to 350 after you put your chicken in. (this will help seal in the moisture) Cook for about 1 1/2 hours and baste with the oil at the bottom of the pan after every 30 minutes. When you see the legs start to separate from the bird, and the top is browned, it's done., And it's still juicy. I added more salt than the recipe stated , also garlic powder AFTER it was coated with the oil mixture. This turned out great with my adjustments.
Combine oil,water,herbs,salt and pepper.
Stir.
Pour or brush over the whole chicken before baking.
The oil and water dosen't mix very well but thats ok.
The water keeps it moist and the oil makes it crisp.
Any other herbs you like can be used in place of these.
Cover with foil and bake at 350 about an hour or until crispy and brown.