LifeIsGood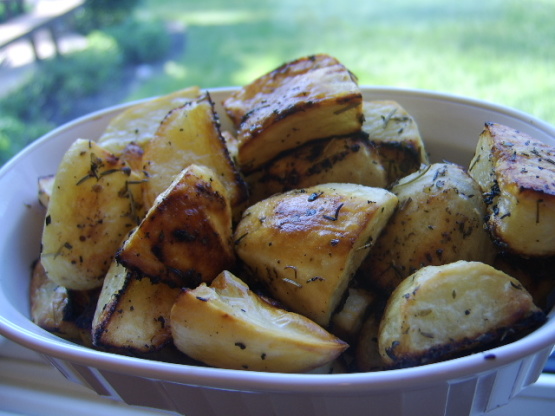 A very simple but good side dish from Bon Appetit. We like our potatoes a little crisper, so I usually up the oven temperature to 425 degrees. ZWT West region for Idaho potatoes.

These were okay. I followed the directions exactly - except that I forgot to flip the potatoes half way through. The flavors didn't come through as much as I'd hoped. Probably just needs a little more salt and perhaps a quick fry in a pan afterwards. I may try this recipe again
Preheat oven to 400°F.
Combine all ingredients except potatoes in large bowl. Stir to blend well. Add potatoes to seasoning; toss to coat. Transfer potatoes to large rimmed baking sheet, spreading out in single layer. Bake until brown and tender, about 40 minutes, turning potatoes halfway through cooking.