ImPat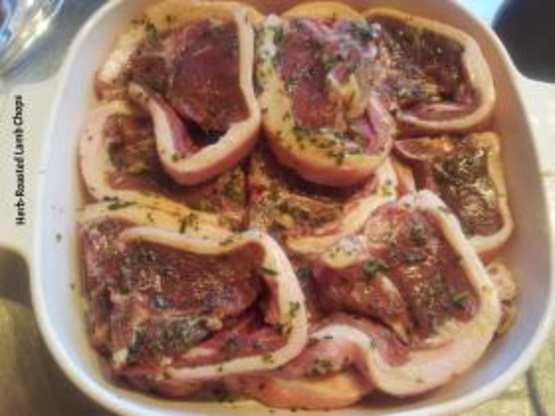 DH and I made this recipe from the February 2009 edition of Bon Appetit a few nights ago and really enjoyed it. We usually prepare our lamb chops on the grill, but I thought that this recipe would lend itself well when grilling is just not practical. I am posting the recipe as printed in Bon Appetit, however, DH suggested that next time I chop the rosemary and thyme leaves, rather than lightly crush them with my mortar and pestel. Prep time includes marinating time.

Excellent recipe! I chopped the thyme and rosemary as suggested and then followed the recipe. I only let it marinate for 30 minutes but it was enough to let the flavors come through perfectly. My chops were a little small so 10 minutes gave me more of a medium doneness but the meat was tender and juicy with a great taste. Thanks for sharing. Made for ZWT 6.
Mix first 4 ingredients and 1 Tb olive oil in a large bowl. Add lamb; turn to coat.
Let marinate at room temperature at least 30 minutes and up to 1 hour.
Preheat oven to 400°F.
Heat remaining 1 Tb olive oil in heavy large ovenproof skillet over high heat. Add lamb; cook until browned, about 3 minutes per side.
Transfer skillet to oven and roast lamb chops to desired doneness, about 10 minutes for medium-rare.
Transfer lamb to platter, cover, and let rest 5 minutes.