Herb-Roasted Cornish Game Hens
SueVM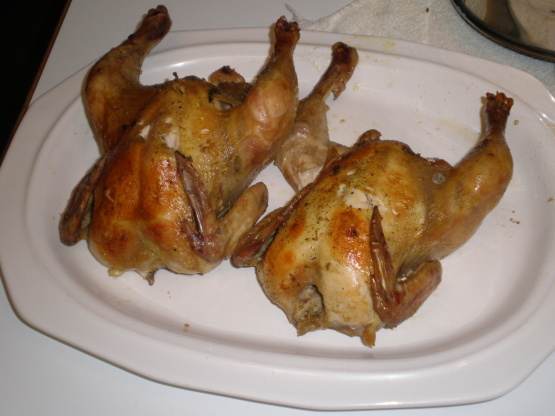 These cornish game hens are simple to prepare and taste heavenly. Roasted in the oven with herbs it makes an elegant dish.

I chose this bcz I had all the ingredients. After 1/2 hour, I basted with olive oil, as there were no real drippings (even at the end). This was not done (except for breast meat) even at 1 1/2 hours. Easy to make, but the flavor wasn't anything special (although it might have changed if we had cooked it longer or higher heat.) Thanks.
Place hens breast side up on a rack in a shallow roasting pan.
In a small bowl combine the remaining ingredients.
Brush over hens and bake uncovered at 350 degrees F for 50-60 minutes or until juices run clear.