Herb Roasted Cornish Game Hens
Maeven6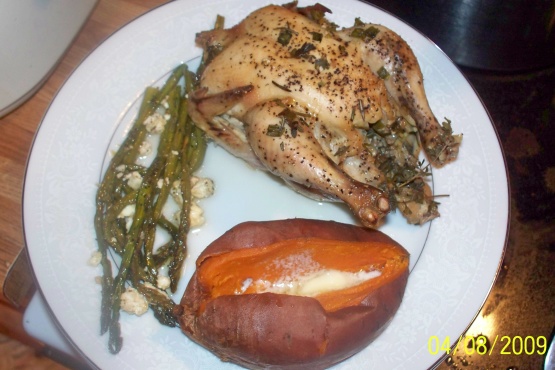 This was a wonderful recipe! I used all fresh herbs from my garden, even the bay leaves came off my trees. I minced all the herbs up roughly and stirred together in a bowl and used a small spoon to scoop it into the cavity and pressed it into with the back of the same teaspoon. Then added the lemon and bay leaf; 8 Birds, 8 bay leaves. I had the left over herbs and tossed them over the lot. I used my roaster out on the porch. To make clean up easy I dropped in a turkey pan and ... made it fit. I had tender tasty lucious birds to serve. It is a very versitile recipe. I put the Before and After shots with the recipe. There wasn't much left for an after plating shot. LOL Thank you again for a winner recipe.
Preheat oven to 375°F.
Rinse hen with cold water & pat dry. Season with salt & pepper inside & out.
Stuff cavity with garlic, rosemary, thyme, & ½ bay leaf. Place some of the shallots, carrots, & celery in cavity.
Scatter rest of veggies on bottom of roasting pan. Place hen on top of veggies.
Squeeze juice from ½ lemon over hen and add a pice (about ¼ of a lemon) to the cavity. Roast in oven 45 minutes until hens are golden brown & crisp. Juices should run clear when thigh is pierced with a sharp knife.
Transfer to serving platter and let sit for 5 minutes. Remove skin & cut in half.