Herb-Roasted Butternut Squash and Sausages
Linnya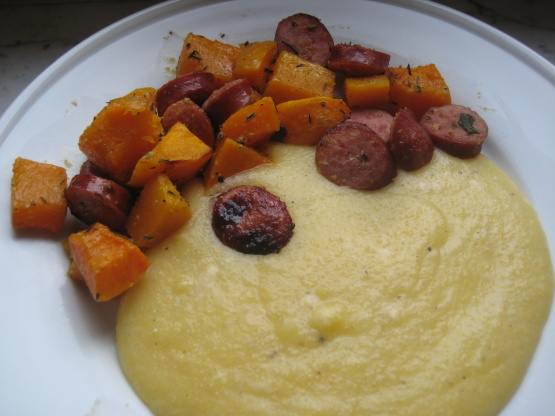 I love to serve polenta with this hearty dish, along with some simple green beans.

I must say I really didn't think I would like this but was willing to try it. I have been trying to find a butternut squash recipe that I liked for years now and finally this is it! I love it! Not only that, my dh, who hates squash, rosemary, and time, loved it enough to ask me to make it for his office's Thanksgiving meal. My 10 yr old son wanted me to make it again for supper the next night since we didn't have any left over. Usually, he hates leftovers. Even my 13 and 8 yr old daughter loved it. If it counts, my 8 month old ds couldn't get enough either. I did add an onion as suggested. I was another that forgot the balsamic vinegar step. Will try it next time. Oh, and the sausage I used was Walmart's Artichoke, Mozzarella Chicken Sausage. I didn't have fresh herbs so I used 1 tsp of dried for each.
6

cups butternut squash, peeled & cut into 3/4 inch cubes

1

lb fully cooked chicken sausage (such as chicken and apple cut into 1 1/2 inch pieces)

3

tablespoons olive oil

1

tablespoon fresh rosemary, chopped

1

tablespoon fresh sage, chopped

1

tablespoon fresh thyme, chopped
1 1⁄2 tablespoons balsamic vinegar
Preheat oven to 450°F.
Combine squash and next 6 ingredients in large roasting pan.
Toss to coat.
Sprinkle with salt and pepper.
Roast until squash is tender and sausage heated thoroughly, stirring once, about 30 minutes.
Drizzle with vinegar and serve.