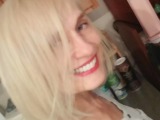 Based on a recipe from Williams-Sonoma Kitchen Library Pizza cookbook. The introduction says, "Fresh or dried herbs add an accent of flavor and color to pizza dough. Good choices include oregano, basil, marjoram, chives, thyme, rosemary, sage, mint and fennel seeds, selected to highlight the ingredients that will top the pizza or fill the calzone. Do not go overboard on your selection: It is better to choose two or three complementary herbs, or even just one herb, rather than a large mixed bouquet of clashing flavors."
Directions
Dissolve yeast in the water in a small bowl and let stand until slightly foamy on top, about 10 minutes.
In a large bowl stir together the 2 ¾ cups flour, salt, and herbs. Form into a mound. Make a well in the center and add the yeast mixture to it.
Using a fork, stir the dough in a circular motion, gradually pulling the flour into the yeast mixture until a dough forms.
Place the dough on a lightly floured work surface using some of the ½ cup flour.
Using the heel of your hand, knead the dough until it's smooth and elastic, about 10 minutes.
Form the dough into a ball.
Brush a large bowl with the oil and place the dough in it. Cover with plastic wrap and let rise at room temperature until doubled in size, about 1 to 2 hours.
Place dough on work surface lightly dusted with the remaining flour.
Punch the dough down.
By hand, gently press dough out into desired shape.
Place one hand in the center of dough, and with the other hand, pull, lift and stretch the dough, gradually working your way all around the edge, until it is the desired thickness, about ¼ inch thick for a crusty pizza base and ½ inch thick for a softer one.
Flip the dough over from time to time as you work with it; alternately, roll the dough out with a rolling pin. The dough should be slightly thinner in the middle than the edge.
Lift the edge of the pizza to form a slight rim.
Transfer dough to a baker's peel or baking sheet, cover, and let rise again until almost doubled, about 20 minutes.
Top as desired.
Bake in a 400 degree F oven for 10 to 15 minutes, until the crust is golden, or according to your pizza recipe's instructions.