Herb Marinated Grilled Top Sirloin
Parsley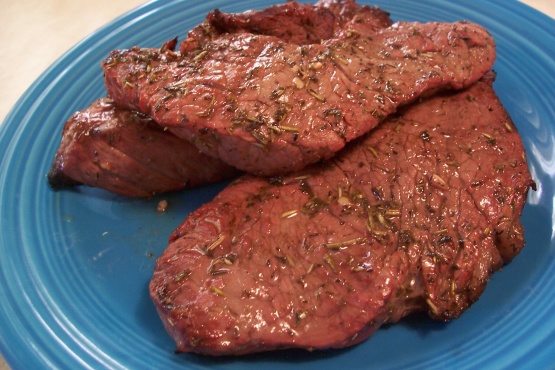 We love top sirloin steaks on the grill. So easy to just place these in the easy marinade before bedtime or in the morning and then grill for dinner. Prep time includes passive marinating time.

I would give this more stars if I could! I can't believe no one has reviewed this yet! These steaks were positively mouth-wateringly delicious. I was searching for a marinade that was just for top sirloin and I am so glad I came across this. The steaks were bursting with flavor, juicy, and capital T tender! We honestly enjoyed these as much as the better cuts of steak. I had three pounds so I doubled everything, but I added a little less vinegar, a 1/2 cup instead of 2/3 cup and used 1/4 cup Worcestershire. I added a chopped shallot , used brown sugar and the orange juice.I marinated them for about 9 hours, turning them occasionally. We couldn't wait to eat the leftovers today for lunch and now they are just a memory-lol! This is my new favorite marinade and I can't wait to make these again! Thank you so much, Parsley! UPDATE: This is still the only way I make my top sirloin, been using this for years! :)
Pierce steaks with a fork a few times and place in a large plastic baggie or glass pan.
In a small bowl, whisk together all remaining ingredients for the marinade. Pour this over steak meat.
Seal/cover and place in refridgerater for at least 6 hours; turning every few hours.
Grill over med-high heat for about 5 minutes on each side, or until desired doneness is reached.