ImPat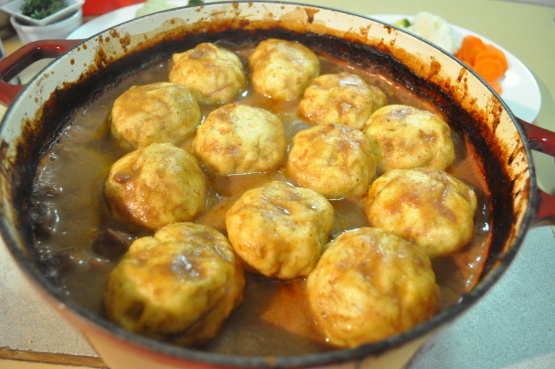 Great with any casserole/stew type dish. You can use fresh herbs(like parsley)or dried Italian herbs as a suggestion. What ever tickles your fancy really!

Top Review by ImPat
Overall a good simple recipe but I think far to much liquid was not of a dough consistency and I had to add a heap more flour to get it to that point - o'kay I used a mini food processor to mix the butter and flour (and I would recommend adding herbs at this point [I used 2 teaspoons of mxed dry herbs bit may up that quantity by 1/2 to 1 teaspoon working ont he ratio of using a 1/4 to1 of fresh] amd would put the herbs into the flour mix rather than with the milk egg mix, as a lot of the herbs were left behind when mixing which may negate upping the amount of herbs). I used this in recipe #176727 and 30 minutes of cooking (rolling over after the first 15 minutes gave some flavourful herbed dumplings. I only used 6 of the 12 balls for 4 of us (with 2 having 2 and the other 2 having 1 which suited dietary needs - the rest will be used sliced in toasted sandwiches with the casserole for those not so sensative to the carb count), thank you Chef#633655, made for Bargain Basement.
Sift flour and salt into mixing bowl,.
Rub butter in lightly with fingertips,
Beat egg and mix with herbs and milk, add egg mixture to flour and mix to soft dough, scoop dough into bubbling stew,
Cover and cook 15 minutes.
Serve with stew.