Herb-Crusted Sirloin Tip Roast W/ Creamy Horseradish-Chive Sauce
Parsley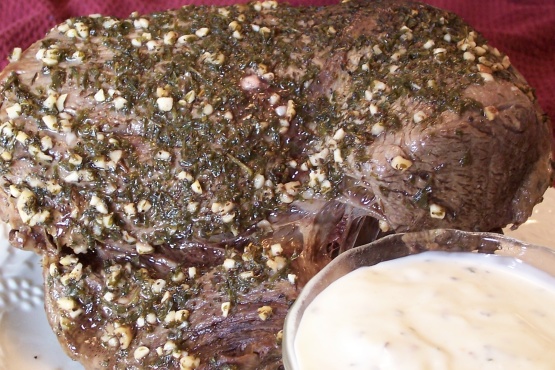 Note: Beef Sirloin (or Round) Tip Center Roast is cut from the Beef Round Tip, Cap Off (IMPS/NAMP 167A) by following the natural seams to separate the tip side, tip center and tip bottom. The tip center is left whole and sold as a roast. Average weight is 2 to 2-1/2 pounds. RECIPE FROM "BEEFITSWHATSFORDINNER.COM" *** UPDATE 10/29/08 - Remember that this is a tough cut of meat if overcooked. Cooked to medium, it is very chewy and you'll have to cut it in 'wafer' thin slices, medium rare is the most you can get away with. I tried this on a cut of cross rib and the seasonings overpowered it so let me know if you have any luck using with different cut of meat. I have cooked it too long and although had great flavor was just to rough to eat for my taste, so I used for stew meat the next day..

I served this for Christmas dinner and it was a hit! I had a 3 pound sirloin tip roast, cooked it to 140 degrees and it was perfect! The sauce is delicious. I realized I was out of thyme and had to substitute steak seasoning, used 2 cloves of garlic and added some dried rosemary that I chopped up, it was wonderful and everyone requested it for next Christmas.
Instructions:.
Heat oven to 325°F.
Combine parsley, thyme, oil, garlic and black pepper; press evenly onto all surfaces of beef roast.
Place roast on rack in shallow roasting pan.
Insert ovenproof meat thermometer so tip is centered in thickest part of beef. Do not add water or cover.
Roast in 325°F oven 1-1/4 to 1-1/2 hours for medium rare, but watch it CLOSELY. I strongly recommend using a meat thermometer with this one.
Meanwhile combine sauce ingredients in small bowl; cover and refrigerate.
Remove roast when meat thermometer registers 140°F for medium rare. (Do not overcook.) Transfer roast to carving board; tent loosely with aluminum foil. Let stand 10 to 15 minutes. (Temperature will continue to rise about 5°F to reach 145°F for medium rare.) Carve roast into THIN slices; season with salt, as desired. Serve with sauce.