Herb Crusted Prime Rib Roast
dspinosi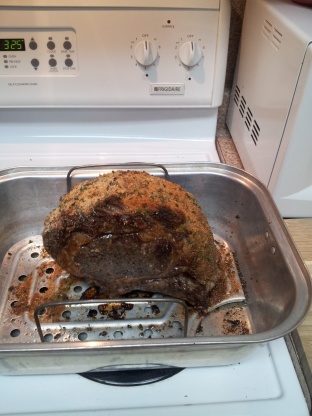 This recipe was in the Publix's "Gift to You Recipes" booklet and had three prime rib recipes in it. I am publishing it for my own cookbook and maybe you will enjoy it too. I made this tonight and it was easy and good.
Preheat oven to 325°F Season roast on all sides with salt, pepper and garlic. Place roast on rack in 13x9 inch baking dish. Bake 1 1/2 hours.
Meanwhile, chop parsley coarsely. Combine in small bowl with bread crumbs and rosemary; set aside.
Remove roast from oven. Coat roast with mustard and then bread crumb mixture. Bake 1 more hour or until internal temperature reaches 145 degrees (medium rare) or up to 170 degrees (well done). Use a meat thermometer to accurately ensure doneness.
Let roast stand 10-15 minutes before slicing; slice and serve.