Herb Crusted Fish Fillets
MsPia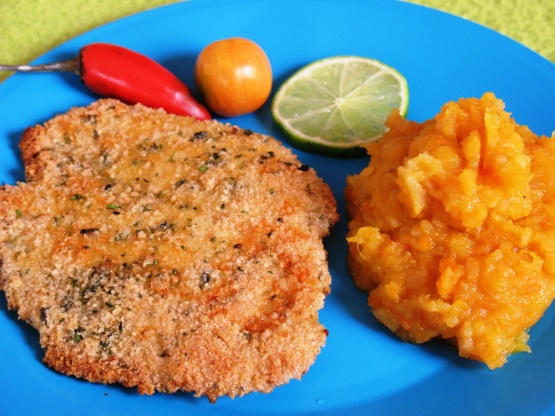 From April 2007 edition of Australian Super Food Ideas. Suggested you serve with oven-baked fries, lemon wedges and baby spinach. I used red snapper fillets (skin off) and served with mashed potatoe and steamed vegetables. The original recipe said 4 serves but the 700 grams of red snapper fillets I had could have served 5 to 6 with sides.

I loved using the fresh herbs from my garden to make this. I used panko instead of the fresh breadcrumbs. I use a large swai fillet, which was not very thick so it cooked through in the pan without my having to turn on the oven. I did have quite a bit of the coating ingredients left, so I sliced some slender Asian eggplant, coated it, and also pan-fried that. It was a bit more fried food than I usually have but really turned out well - I might do this just with veggies another time. Update: I used the same crust ingredients - without the egg wash - with slices of veal liver - very very nice
Place pine nuts, oats and herbs in a food processor, process until finely chopped, add breadcrumbs and process to combine.
Transfer some of the breadcrumb mixture to a shallow plate.
Place flour and eggs in separate shallow bowls.
Preheat oven to 180 degree celsius.
Coat fish in flour, dip in egg, then coat in breadcrumb mixture, pressing crumbs on with fingertips to secure (top up breadcrumbs as required).
Pour enough oil to cover the base of a large non-stick frying pan, heat over medium heat until hot.
Cook fish for about 3 minutes each side (in batches if necessary - don't over crowd frypan) or until golden.
Transfer to a wire rack over a baking tray.
Place in oven and cook for 10 minutes or until fish is cooked through.
Keep checking the fish, cooking time will vary depending on the thickness of the fillets.