Prep 10 mins
Cook 1 hr 30 mins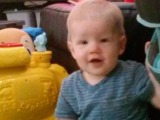 I found this recipe in the Chicago Tribune, wanted to share it with everyone. I Hope you enjoy this recipe.
Directions
In a bowl, combine the first seven ingredients.
Rub over entire roast.
Place on a rack in a shallow roasting pan.
Bake uncovered, at 325 degrees F for 1-1/2 to 2 hours or until meal is tender and reaches desired doneness.
Medium-Rare, a meat thermometer should read 145 degrees F:.
Medium, 160 degrees F:.
Well-Done, 170 degrees F:.
Meanwhile, in a bowl, combine the sauce ingredients.
Serve with the roast.
Most Helpful
made this tonight it was good and we enjoyed the sauce. the crust was soggy, but i think with some "tweaking" i'm sure it will work out better next time. they liked the sauce so much they are using it for soft pretzles, and asked me to make onion rings. thanks for the post. served with a green salad and orzo primavera # 89710

I found this recipe on Allrecipes where it had really good reviews. I had purchased a chuck-eye roast and was looking for something good. At first I reviewed it a 4 stars, but after hearing my honey go on and on about how great it was, and after eating the leftovers for lunch and dinner today, I realize that this is worthy of 5 stars! It has excellent flavor and the crust is very tasty. My crust seemed soggy at first but a quick trip under the broiler firmed it up nicely. I didn't use the sauce recipe (due to mixed reviews on the other site) and instead made a similar version by Tyler Florence (I am posting it today). I'd never had a sauce like this with roasted beef, and I really didn't expect to like it, but WOW! The only other thing I did differently was I coated the roast in kosher salt and let it marinate overnight and I didn't have rosemary so I just used a crazy mix of random herbs and I used extra garlic. But this was GREAT!! Thanks so much for sharing!(