Herb Cream Cheese Scrambled Eggs
BecR2400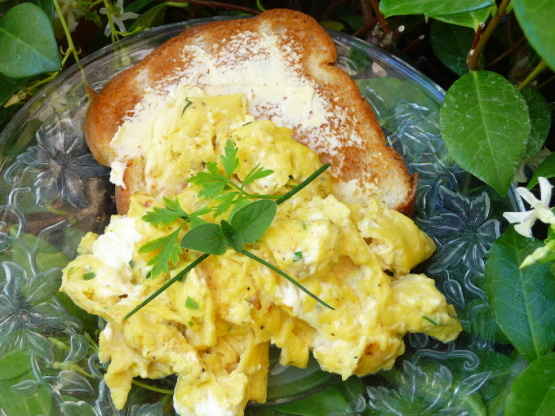 Low GL scrambled eggs. I'll use a light cream cheese and egg whites. For the herbs I like chives, parsley and a little oregano. Serve this on toasted Rye or a Multigrain bread.

These totally delicious eggs were a yummy treat this morning for breakfast! I used fresh oregano, parsley and chives from my garden, along with 1/3 less fat whipped cream cheese and Smart Balance Light Buttery Spread. Made for the Magic of Herbs 2010 event in the Cooking Photos Forum. Thanks for sharing this easy and healthy recipe with us!
Beat the eggs and milk in a bowl and add black pepper.
Heat olive oil spread in a frying pan and add egg mixture.
Sir constantly until egg is set but still soft.
Remove pan from heat and stir in cream cheese, herbs and pepper.
Serve on the toasted bread.