Herb Couscous Stuffed Tomatoes
loof751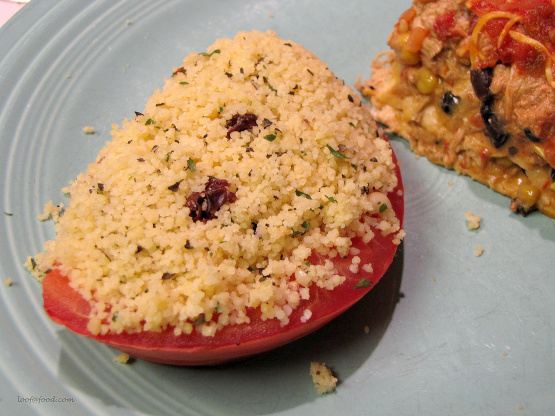 I have had a similar dish but rice was used as an entree/starter at a restaurant and this one looks good, from Super Food Ideas. To make vegetarian use vegetable stock.

Loved these stuffed tomatoes! Don't care for chives so left them out, and subbed raisins for the currants as that's what I had on hand. The couscous in these was so tasty and flavorful, perfect with the roasted tomato. Served as a side dish but next time will make these a main course with salad and some crusty bread. Thanks for sharing your recipe!
Preheat oven to 220C (200C fan forced).
Slice tops from the tomatoes and reserve.
Using a teaspoon, scoop out flesh and seeds and place tomatoes and tops on a baking tray and bake for 8 to 10 minutes or until just tender.
Place couscous and currants in a heatproof bowl.
Place stock and lemon juice in a microwave safe jug and microwave on high (100%) for 30 to 40 secons or until heated through.
Stir stock mix into couscous mix and cover and stand for 5 minutes and then using a fork, stir to separate grains.
Add almonds basil, parsley, chives and oil and season with salt and pepper and stir to combine.
Divide couscous mix between tomato shells and replace top and serve.