twissis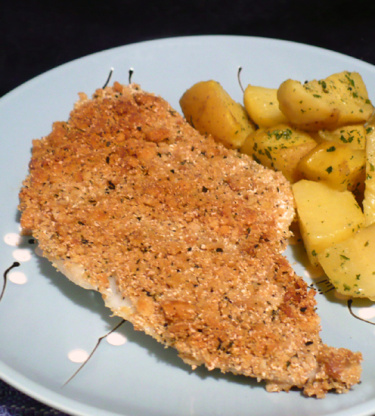 A very simple but yummy way to prepare cod. The buttery flavor has saved more than one meal of frozen cod at our house. I thank Harriet Stichter of Milford, IN for submitting this to TOH, as it appears in the TOH cookbook.

EXCELLENT. So easy and very very good. I didn't have buttery crackers, so i went went some other crackers on hand, sort of a sesame flavor. That... coupled with the parmesean was a wonderful mixture of flavors. I put a little egg in with my butter to thicken it up a bit for easier assembly of the crackers on the fish. One tip.. when coating the fish with the crumbs, i found it easiest to put the crumbs on a plate, dip the fish in the butter, place it on the crumbs.. and then pile a heap of crumbs on top of it. If you try to dredge the fish in the crumbs and flip it around, they crumbs won't stick. Maybe this is common knowledge.. but I didnt know it at the time. Happy cooking!
Preheat oven to 400 degrees Fahrenheit. Grease a 13-inch x 9-inch x 2-inch baking dish.
Crush butter-flavored crackers either in a Ziploc bag with a rolling pin or bottle of sherry, or in a food processor.
Melt butter over low heat, and place in a shallow bowl.
In another bowl, combine the crackers, cheese and seasonings.
Dip fillets in butter, then coat with crumbs.
Place coated cod fillets in baking dish. Bake, uncovered, at 400 degrees Fahrenheit for 15-20 minutes or until fish flakes easily with a fork.