Herb & Cheese Quick Bread
Marina No Ar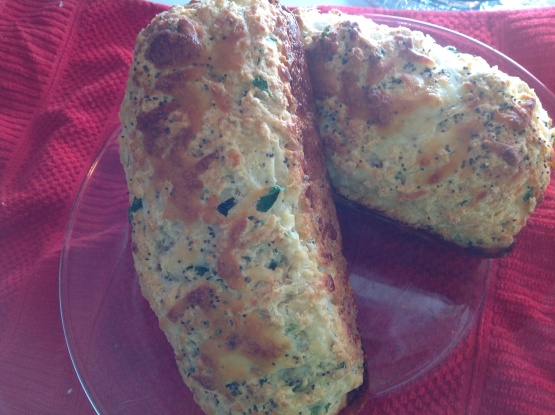 The restaurant next to my old office building used to give you a piece of this wonderful bread with every meal. When they sold the restaurant, they gave out the wonderful recipe. Enjoy!

Made this with chicken and noodles tonight. Took me 10 minutes longer to cook than recipe stated. I think it needed fresh herbs instead of dried and a little more cheese. I double checked the recipe when I noticed it didn't require salt? I didn't add it but MAN did it need it. A little sprinkling on each piece did the trick. Used greek yougurt.
Combine dry ingredients.
Cut in margarine or butter.
Combine cheese, egg, yogurt and milk, and add to other ingredients.
Dump into a round or square 9-inch pan, sprinkle with poppy seeds.
Bake at 350°F for 30-45 minutes, or until a knife inserted in the center comes out clean.