Herb Bread (Pane all'Erbe)
Annacia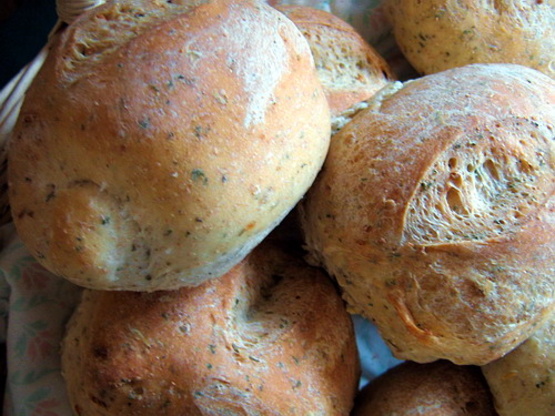 Use Italian parsley if you can get your hands on it, if not the curly American will be fine.

I'm trying to make a new to me bread every few days, in anticipation of National Homemade Bread Day on Nov. 17th, and this one is definitely a winner. Used nearly all my remaining parsley from the garden, a small shallot and some red onion, as well as the garlic clove. I used my bread machine, adding the herbs/onion when the mix-in beep sounded towards the end of the kneading cycle. Just delicious and very pretty with all the flecks.
Using a sharp knife or a food processor, chop the parsley, onion and garlic until finely minced.
Stir the yeast into the water, let stand 10 minutes.
Stir in the minced parsley mixture and the oil.
Mix the flour and salt and stir in 1 c at a time until the dough comes together.
Knead on a floured surface until silky and elastic (about 8 to 10 minutes) Place dough in a lightly oiled bowl, cover tightly with plastic wrap, and let rise until doubled, about 1 1/2 hr.
The dough should be soft and pillowy.
Punch dough down on a floured surface and knead it briefly.
Cut the dough in half and shape each half into a round loaf.
Place loaves on a lightly oiled baking sheet and cover with a towel and let rise until doubled (1 hr) Preheat oven to 400F.
Bake until the loaves sound hollow when you tap the bottoms (40 to 45 minutes) Cool completely on racks.