reena23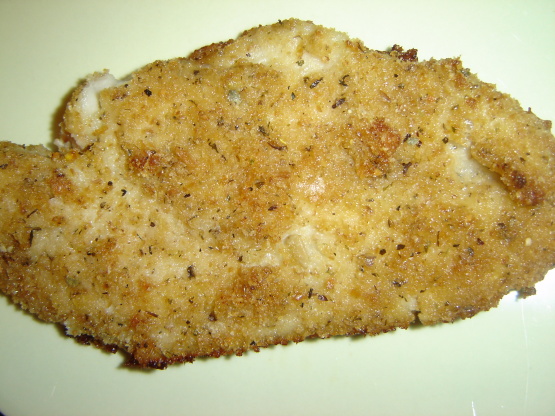 This recipe is very adaptable; use more or less of the herbs listed, or substitute for the ones you like. This fish dish always comes out perfect, but because of the high temperature, watch it closely so it doesn't over-cook. These are great served with a slice of lemon.

This recipe was great. I changed it a little to cut down on calories. I grated fresh lemon peal. Set the peal aside for garnish. I used the fresh squeezed lemon instead of milk and reserved the leftover lemon juice to drizzle over the fish instead of the butter. This was very flavorful, and I did not need to serve with lemon, since I sprinkled the fresh lemon peal over fish before serving.
Mix dry ingredients together and set aside.
Dip thawed fish fillets in milk to coat.
Place in bread crumb mixture and coat completely pressing crumbs to adhere.
Place fish fillets in greased baking dish.
Drizzle melted margarine over fish.
Bake at 500 degrees (this is not a printing error) on top rack of oven for 10-12 minutes, or until fish flakes easily with a fork.