Ms B.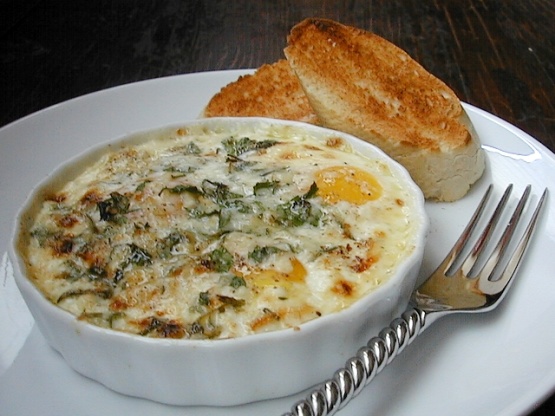 The perfect luncheon or Brunch dish, leaving your hands free to entertain your guests while they are baking. Very French, and you can make them with any seasonings you like.

Top Review by Ms B.
A friend had originally tried these after seeing them featured on an episode of Barefoot Contessa on the FoodNetwork. She raved about them, and I decided to give them a try. They are fabulous. I did increase the parm and garlic in the recipe, though. We served them for Sunday brunch, but I think that they would be perfect for simple weeknight dinners for 2, also.
Preheat the broiler for 5 minutes and place the oven rack 6 inches below the heat.
Combien the garlic, thyme, rosemary, parsley and Parmesan Cheese and set aside.
Carefully crack 3 eggs into each of 4 small bowls or teacups (you won't be baking them in these) without breaking the yolks (It's very important to have all the eggs ready to go before you start cooking).
Place 4 individual gratin dishes on a baking sheet.
Place 1 TBS cream and 1/2 TBS of butter in each dish and place under the broiler for about 3 minutes, until hot and bubbly.
Quickly, but carefully, pour 3 eggs into each gratin dish and sprinkle evenly with the herb mixture, then sprinkle liberally with salt and pepper.
Place back under the broiler for 5 to 6 minutes, until the whites of the eggs are almost cooked (rotate the baking sheet once, if they aren't cooking evenly).
The eggs will continue to cook after you take them out of the oven.
Allow to set for 60 seconds and serve hot with the toasted bread.