Herb and Lemon Chicken in a Clay Pot
diner524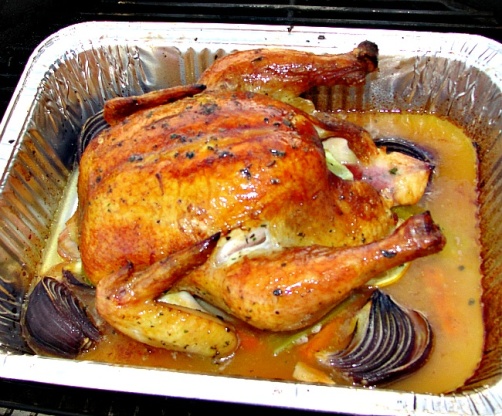 This recipe utilizes a clay cooker, such as a Romertopf. (for alternative cooking method without a clay pot, see diner524's review) The chicken stays juicy but still gets a crispy skin on top. Remember the clay pot and lid need to be soaked in cold water for 15 minutes before using. Try to find an Herbes de Provence that includes lavender flowers. This is good with steamed rice, or roasted vegies. The juices from the clay pot are good over the rice or vegies.

This is great, 5 stars all the way. You just can't go wrong with the good old clay pot. I broke the lid of mine after the chicken came out of the oven but such is life and I'll get another one. The bird was amazingly good. It was almost falling off the bone and so tender no knives were needed. Lots of flavor with great gravy from the juices, This is a keeper recipe for sure. Thanks Mikekey :D
Mash Herbes de Provence into the softened butter until well blended.
Rinse chicken inside and out and pat dry with paper towels.
Soak clay pot and lid in cold water for 15 minutes.
Meanwhile, place 1/2 lemon in cavity of chicken and truss chicken with kitchen twine. Fold wings under. Rub butter mixture over chicken. Sprinkle with salt and pepper.
Slice remaining 1/2 lemon into 3 or 4 slices.
After soaking, line bottom of pot evenly with onion, celery, carrot, garlic and lemon slices. Place chicken, breast side up, on top of vegies.
Pour broth over chicken and cover pot with soaked lid.
Place in a COLD oven and set heat at 450°F.
Cook for 1 hour and 15 minutes, or until the legs move easily and skin is browned.
(Lid can be removed the last 10 minutes, for crisper skin.).
Transfer to a platter and let rest 10 minutes before carving. Serve with the pan juices and vegies, if desired.