Herb and Garlic Pork Chops
Zaney1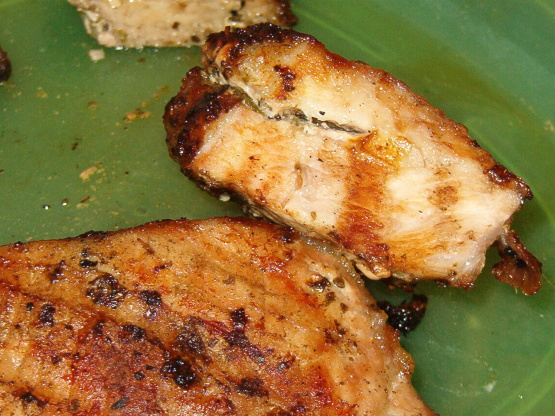 This is a very tasty way to serve your pork chops, I love grilling and this is just another recipe that makes it so easy to cook in the summer!!

Top Review by Zaney1
This was really easy to do. I used dried herbs b/c I didn't have fresh ones. I also used chicken brothe instead of wine b/c I don't keep wine around. The only thing I had a little problem with was the garlic slices in the pork chops. I expected them to mellow out and sweeten a bit with cooking but they didn't. They were really strong and sharp tasting. I thought maybe we didn't cook the chops long enough but they were done the whole way through (no pink) so I don't know.
Place the chops on a cutting board, using a small sharp knife, cut small slits into the sides of the chop. Insert a garlic slice into each chop. Place the chops in a large sealable bag. In a blender, combine the wine, oil, minced garlic and sugar. Blend on high speed. Add the fresh herbs, salt and pepper and continue to blend until smooth. Pour this marinade over the chops and ensure that the chops are coated evenly. Marinate in the refrigerator for 4 hours.
Once chops are almost done marinating, preheat barbecue to medium high 375F, for direct grilling. Brush the grill with oil to prevent sticking. Remove the chops from the marinade, drizzle with oil and season with salt and pepper. Place the pork chops directly on the grill and cook for 4-5 minutes per side. Half way through cooking give the chops a quarter turn to create a diamond char pattern. Flip the chops and continue to cook for another 4-5 minutes or until desired doneness. Remove from grill; allow to rest under foil for 15 minutes.