Herb and Garlic Butter Spread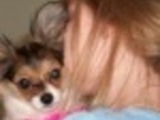 This is one of the most used recipes in my kitchen. It is delicious melted on top of a grilled steak or any grilled meat for that matter. It is totally yummy on baked chicken! I use it for a spread in hot sandwiches and for a quick snack spread on Ritz crackers. Cook time represents chill time.
Directions
Combine all ingredients in food processor or mixer. Mix until well blended. Cover and refrigerate at least 2 hours.
Reviews
Most Helpful
I served this on Honey Wheat Bread Like Outback for our "fake out Outback Steak Dinner" and this butter really complimented that sweet bread. I did leave out the dill because I didn't have any. We also used it on rye crackers w/lunch meats the next day. I will be making it again.
I served this with homemade bread from my bread machine. It was great! Thanks

My family loves this recipe! I made 3 loaves of white bread and put this spread out with it for Sunday dinner and needless to say they gobbled it all up! The recipe was simple to make. My family loves garlic so I doubled the amount. I also used margarine instead of butter and it still tasted great!