Herb-And-Citrus Turkey Burgers
Redsie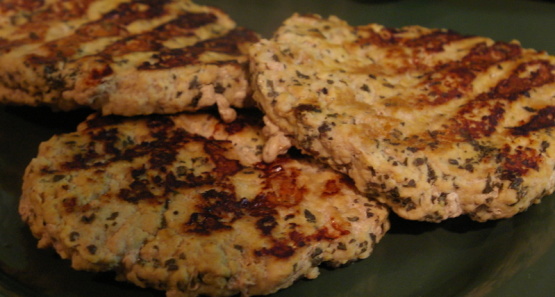 A well balanced blend of herbs and citrus make for a wonderful variation on the turkey burger. For those like me who love bold flavors, there may be a temptation to increase the herbs. Don't, as it does not improve the burger, rather it takes the seasonings out of balance. Instead you might try replacing the black pepper with some crushed red pepper. My suggested condiments are fresh tomatoes, grilled red onion slices and some Dijon mustard. Based on a recipe from Cooking Light 2000. WW 4pts per burger.

We made these last week. They were divine! Definitely a keeper. Thanks so much for a great recipe.
Combine all ingredients in a bowl. Divide turkey mixture into 4 equal portions, shaping each into a 1/2-inch-thick patty.
Place patties on prepared grill and cook 6 minutes on each side or until done. Alternately, cook 4 1/5 minutes on an indoor grill.